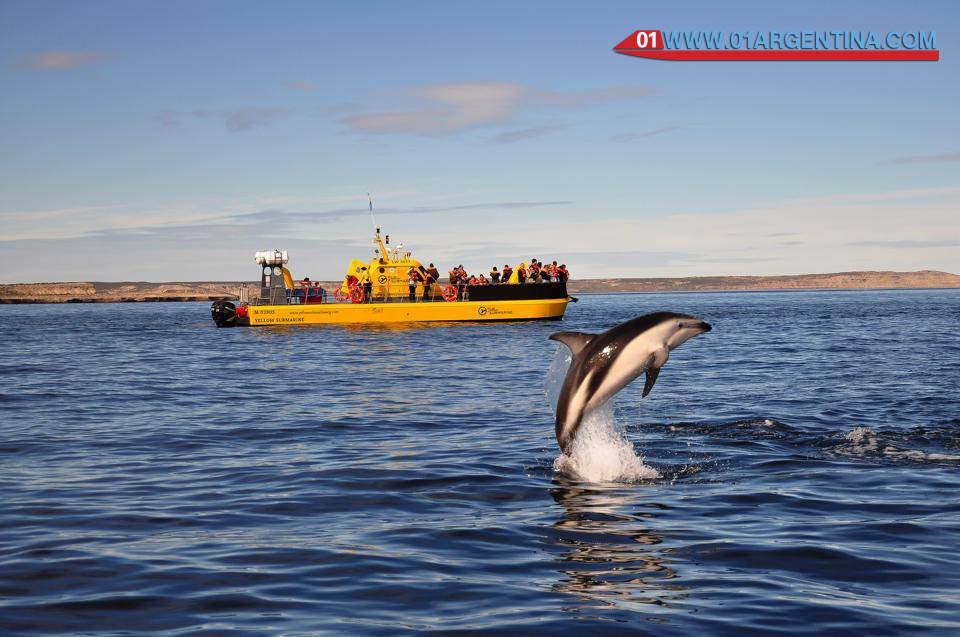 It was built a semisubmersible specially designed for watching southern right whales and sea lions of a hair in Puerto Madryn Argentina.
THE SEMI
It was specially designed and built for this purpose by the shipyard Federico Contessi city of Mar del Plata, and then transported by land to Puerto Pyramids.
On board the Yellow Submarine, passengers can move freely and watch the whales surface from the upper deck as a traditional outlet, or from the submarine cabin to see the whales as if they were diving with them. At this level underwater, passengers have 40 underwater viewing windows, each with its own seat.
TECHNICAL INFORMATION:
Dimensions: 17.20 m in length – 4.00 m wide – 2.10 m deep. See map
Total weight: 47 tons
Hull Material: Steel Naval
Capacity: 50 passengers (including crew)
Visibility upper deck: 360
Visibility underwater cabin: 40 windows (20 on each side)
Engines: 2 x Mercury Verado 275 HP (550 Hp)
Cruising speed: 6 knots
Technology applied to cetaceans: art hydrophones to hear the sounds of whales
Safety: liferafts; Individual life jackets; VHF Radio; Chartplotter; GPS; Echo sounder; Firefighting equipment
WC: Yes
STAFF ON BOARD
1 Captain (Master Professional biker – whaler guide)
1 sailor (whaler guide)
One bilingual (Castilian and English)
natural, that is from the submarine Yellow Submarine cabin or from any other competent boat is a unexceptional moment l. Like any natural show, the "luck" factor involved and have them patience must know the whales, which, although they are curious and friendly, they are free to approach us much or not. To increase the chances of seeing them and close our excursions aboard the Yellow Submarine are conditioned by the weather and the decision of the Captain. For this reason, we encourage our passengers to hire the service either at the beginning of your stay, so you can easily reprogram if necessary.
Sightings SUBMARINES
The big difference of our service is that we can now observe whales and sea lions immersed in their world. Underwater, the perspective is completely different, being comparable to the diving experience with them.
On board, passengers can move freely choosing the deck of a ship or submarine cabin.
The combination of underwater whale with panoramic views from the outside deck will be an unforgettable experience!
SERVICE DESCRIPTION
Point of departure and return: Central Southern Spirit boarding in Puerto Pyramids.
Tour: Navigation in the New Gulf, within 10 miles from the starting point, depending on the position of the animals.
Observed species: Southern right whales, sea lions of a hair, typical birds of the Patagonian coast and dusky dolphins (depending on time of year).
Programme duration: 1.5 hours.
Passengers can choose at any time according to your preferences, to remain in the submarine cabin or on the outdoor deck. In both cases they enjoy sitting comfortably explanations of a whale guide, while watching the animals.
Throughout the tour our guides help you interpret the behavior and habits of animals, and answer passenger inquiries.
To ensure the quality of the sighting, Captain day navigation can be performed decide whether or not depending on weather conditions. Unable to be performed will be offered to spend their reserves when there is availability, opt for the traditional whale, or cancel the reservation.
The departure time is subject to change depending on weather conditions.
Code of Practice for whale watching
See the tour of the submarine ride summer
DATES AND TIMES
SEASON OF WHALES (01/07 to 31/08)
Monday Tuesday Wednesday Thursday Friday Saturday Sunday
Out at 14:00 pm.
WHALE HIGH SEASON (01/09 to 31/10)
Monday Tuesday Wednesday Thursday Friday Saturday Sunday
Departures at 11:30 and 13:30 pm in September and October.
Passengers must be in the central boarding Southern Spirit of Puerto Pyramids one hour before departure.
SUMMER SEASON (15/12 * 31/03)
Submarine sightings of sea lions, birds, dolphins and occasionally dark
Monday Tuesday Wednesday Thursday Friday Saturday Sunday
Departures at 10:00 AM and 12:00 PM.
Passengers must be in the central boarding Southern Spirit of Puerto Pyramids half an hour before departure.
* The start of the summer season is subject to the official closing of the whale season.
GENERAL RESTRICTIONS
There are no age limits for hiring our services.
All children under 3 years must remain under the supervision of an adult during the entire tour.
We note that access to the underwater cabin you go down a ladder 12 rungs.
Yellow Submarine SA company has the right to cancel any output due to bad weather or technical problems. If for some reason a trip is canceled, passengers can choose to cancel the reservation or change it for another day or perform the traditional whale.