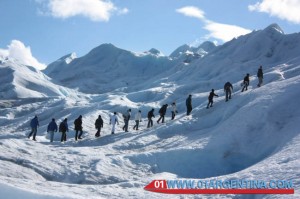 The beauty of glaciers around El Calafate can be enjoyed at any time of year, although the variation in temperature between summer and winter months makes some more enjoyable for walks to release air. We tell you when to go to El Calafate for the weather, the seasons and the kind of adventure you're looking for.
When you go to El Calafate: weather and seasons
In the heart of Patagonia, El Calafate climate is cold and dry all year without extreme variations between the four seasons. However, in summer (January and February) temperatures are quite nice, with averages of 13 ° C and reaching the maximum setting of 28 º C. In winter (June to August) temperatures average between -2 and 1 º C, reaching absolute minimum of -15 ° C. Rainfall is low, averaging between 150 and 300 mm per year, with the wettest autumn season. In May, June and July are frequent snowfall.
As the time of the detachments of glaciers (convener natural spectacle) and offer sunny days (up to 17 hours of sunlight in December), summer is the high season in El Calafate, with somewhat higher prices and high demand for so you should book accommodation and tours in advance. It is considered high season from late October until the end of Holy Week. Temperatures are lower at night and glaciers (especially if we are in the height), so you should wear warm clothes even in January.
Low season runs from May to September, when the sights are presented quieter but some hotel, restaurants and shops close. In June and July many bodies of water are frozen, giving its own appeal to this age of shorter days and less pleasant temperatures. The main glacier tours are held throughout the year.
What is the best time to go to El Calafate
For most tourists, summer is the best time to go to El Calafate, since you can fully enjoy the forest environment and allow long sunny days make outdoor walks pleasant. If you have not decided when to go to El Calafate, March is an excellent choice: the weather is pleasant and there are not many tourists in January and February, the peak of the season.
However, all seasons have their advantages and disadvantages, depending on the activities you want to perform. Summer has great advantage as the weather, but the disadvantage that the prices are higher and there is only snow on the mountains.
If you are attracted to see snowy landscapes and even snow sports, then winter is the best time to travel to El Calafate, whenever you can tolerate low temperatures. In July animadaFiesta Ice takes place in the Round Bay, with exhibits skating, hockey, "Chueca" (typical sport in the area), ice sculptures and parades sleds, plus music and art contests.
The beginning of spring and early fall are good times to visit Glacier National Park, because they combine the tranquility and economic price low and mid season, with low temperatures and less colorful landscapes, with some snow. However, strong winds can become annoying on some rides.