Information of Patagonia Argentina
The Patagonian region consists of the provinces of La Pampa, Chubut, Neuquén, Rio Negro, Santa Cruz and Tierra del Fuego Antarctica and South Atlantic Islands.
Patagonia Argentina is a prosperous region, where the first settlers were the shepherds of the sheep, that continue to be a source of wealth, allowing to develop an important textile industry.

In the province of La Pampa, livestock and equine vaccine is also qualifying for their pastures and the high demand for this meat has driven the establishment of centers in the territory refrigerators.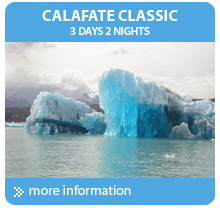 Livestock has been the traditional source of wealth, along with fishing and agriculture has experienced an intense process of modernization.
The discovery of oil in the early twentieth century and gaining aluminum, have opened great possibilities for this region, like tourism, finding alternatives throughout the year.
The largest wind farm in South America is located in Patagonia. The cuisine has a great diversity of supply. In the Andes mushrooms, deer and wild boar, standing all varieties of "smoked". Trout and salmon hatchery, beer, "berries", sweets and chocolates. Enjoy a Welsh tea in Gaiman or Trevelín localities in the province of Chubut. The roast Patagonian lamb, shrimp, black hake and crab Atlantic coast of Tierra del Fuego are a must.
Travel Information of Patagonia Argentina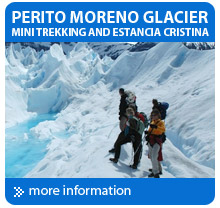 The legendary Route 40, with its gravel roads in some sections, a magical route of 5,000 kilometers long, along the Andes from latitude 52 ° to latitude 22 ° 45 '.
The variety of sports can be practiced in this region, which extends to the Beagle Channel, the starting point for cruises to Antarctica.
Mountaineering, trekking, horseback riding, hot air ballooning, rafting, kayaking, canoeing, windsurfing and diving are all options that are offered to intrepid travelers and adventurers.
Escalations to the vertical walls of Cerro Torre and Fitz Roy in the "mecca" of trekking, the town of El Chalten in the province of Santa Cruz and the classic ascents to the Tronador and Lanin.
In Tierra del Fuego, the excursions are traditional dog sledding Siberian Huskies and from Ushuaia sailing excursions, catamarans and cruising, sailing through the Beagle Channel to the Staten Island, and Cape Horn to Antarctica .
Distances to Buenos Aires with main cities of Patagonia Argentina
Santa Rosa (La Pampa): 615 km
San Martin de los Andes (Neuquén): 1.581 km
Neuquén (Neuquén): 1,154 km
Bariloche (Rio Negro): 1.583 km
Viedma (Rio Negro): 970 km
Esquel (Chubut): 1,874 km
Puerto Madryn (Chubut): 1.380 km
Trelew (Chubut): 1.440 km
Comodoro Rivadavia (Chubut): 1.735 km
El Calafate (Santa Cruz): 2561 km
Rio Gallegos (Santa Cruz): 2.505 km
Rio Grande (Tierra del Fuego): 2.870 km
Ushuaia (Tierra del Fuego): 3092 km